West Virginia Sunflower Festival
Take home a bouquet of sunshine with a visit to the WV Sunflower Festival. If you love sunflowers, mouth-watering food, wholesome fun, and farm life, you won't want to miss roaming through our fields with over 50,000 sunflowers in bloom. Be sure to bring your camera, or hire a professional photographer upon arrival, for some spectacular photo ops. We have lots of fun photo props, as if the sunflowers aren't amazing enough.
This festival is fun for all ages! The kids will enjoy play time on the state's largest bounce pad and riding the tractor pulled cow train. The entire family will appreciate quality time spent in the enchanted forest bonding while doing a scavenger hunt. Don't miss the butterfly release at 2pm! Bring your own chair and be thoroughly entertained by Swinging With Sinatra & Elvis.
Remember to bring your own sunflower to enter the "Biggest Sunflower Contest" for a chance to win a refund of your admission cost!
What's happening at the WV Sunflower Festival?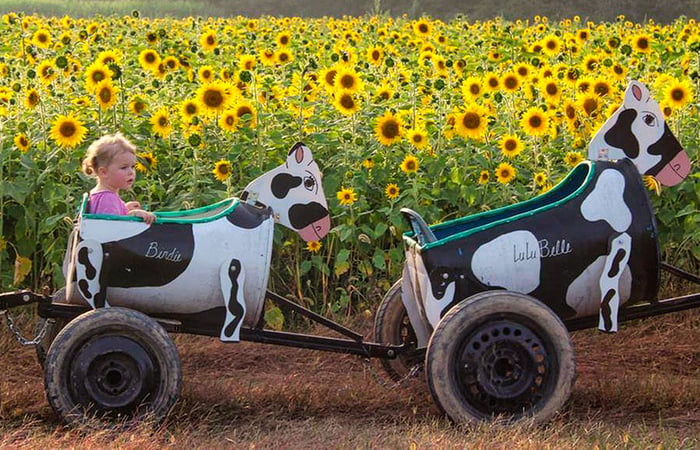 Bucking Cow Barrel Train Ride
The tractor pulled bucking cow barrel train ride is a big hit among kids of all ages. If you fit inside, you can take a ride! Kids can double up in the same cow and parents are welcome to ride along with little ones at no charge.
WV's Largest Outdoor Jump Pad
Kids have a blast running, rolling, skipping and jumping on the largest outdoor bounce pad in West Virginia! The bounce pad can get a little hot during warm weather so we recommend wearing socks to keep little feet comfy. The kids will be ready for napping on the ride home.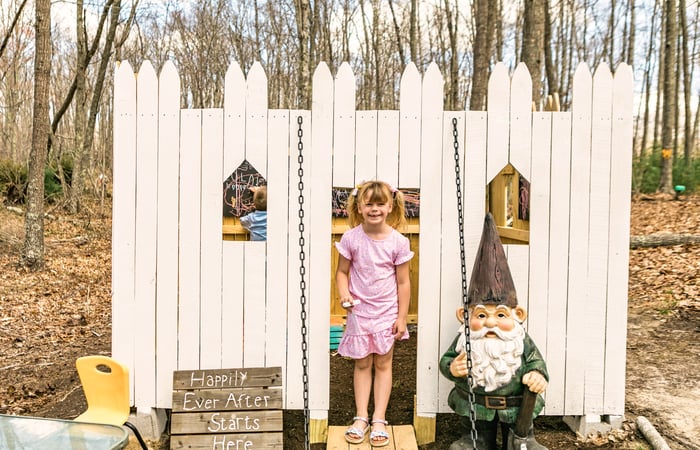 Enchanted Forest/Scavenger Hunt
Your entire family will enjoy a bonding experience exploring nature while enjoying a scavenger hunt in our enchanted forest fairy garden. Kids love to visit the castle and let their imagination take over as they draw butterflies, frogs and fairies on the chalk board walls. Dreams come true when pennies are pitched with a wish into the well.
Enjoy the forest, connect with nature & watch out for trolls!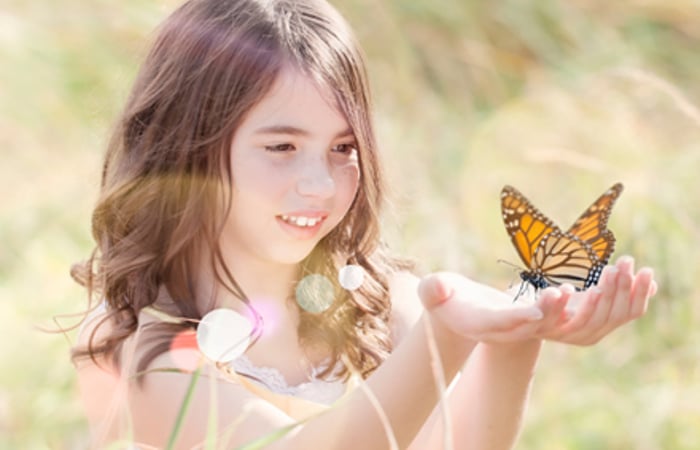 Butterfly Release Sept 2 & 9 at 2PM
Monarch butterflies offer the world much more than beauty. It is thanks to pollinators, like Monarchs, that we enjoy food, such as the famously sweet strawberries grown here at Sunset Berry Farm. Join us for our 2nd annual butterfly release to recognize the important work of the Monarch, celebrate it's contribution to life and remember loved ones that have transitioned into their next life, possibly as the mighty Monarch.